THE QUOTES:
Animals and the Environment
Conviction, Morality, and Sacrifice
Freedom, Liberty, and Patriotism
Language, Literature, and Writing
Mathematics, Science, and Technology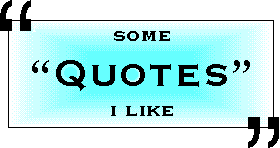 Links to Other Collections of Quotes
This page is maintained by Craig Fifer
craig@fifer.net
---
I don't know exactly why I created this page to begin with. I think it was because I was inclined to put all of these quotes in my signature but decided the flames would be too hot. So I've stashed them here for your perusal. I have not verified the listed credits for each quote; if you find an incorrect credit or other error, please let me know. Quotes without credits are, as far as I know, anonymous.
---
Rev. 2-24-99
The layout, format, and original work on this page is
© Copyright 1995-1999 Craig T. Fifer, All Rights Reserved.
All quotes are copyrighted by their respective owners.