THE QUOTES:
Animals and the Environment
Conviction, Morality, and Sacrifice
Freedom, Liberty, and Patriotism
Language, Literature, and Writing
Mathematics, Science, and Technology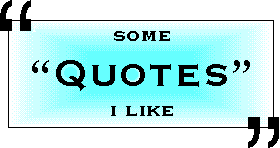 This page is maintained by Craig Fifer
craig@fifer.net
---
To receive some pearls of wisdom (or humor) regularly, subscribe to:

Thought for the Day
To subscribe to the list, send an e-mail message with no subject to listserv@tamvm1.tamu.edu. In the body of the message, type SUBSCRIBE TFTD-L Your Name, substituting your real first and last name for the words 'Your Name.'

Also, check out these other quote-related sites:

Bartlett's Famous Quotations, 1901
Oxford English Dictionary, 2nd Edition
Jennifer Rexford's Quotations
LoQutus Quotations Service
Gopher Quotes Archive
Yahoo Quotations References

---
Rev. 2-24-99
The layout, format, and original work on this page is
© Copyright 1995-1999 Craig T. Fifer, All Rights Reserved.
All quotes are copyrighted by their respective owners.